Outdoor kitchens have become increasingly popular in North Carolina over the past two years, as homeowners have spent more time eating in rather than going out—and are determined to make the most of their backyard space. Outdoor kitchens are a great place to gather, socialize, and enjoy a meal under the stars. As such, they're especially appealing to today's homebuyers, which is why upgrading and maintaining them is a great adaptation for your home (with a potentially high return on investment.)

Below are the ten best outdoor kitchen upgrades for your Wilmington backyard.



Outdoor bar
Luxury kitchens can act as full-service entertainment. Adding a well-stocked bar or bar cart to your outdoor kitchen is an easy way to elevate your dinner parties. Bars act as storage units, to hide ingredients like ice, alcohol, and bitters. If your outdoor kitchen doesn't have a built-in bar, consider one of these options. Choose one made from durable and stylish materials—or on casters for added mobility.
Bar seating
Regardless of if your kitchen has an actual bar, bar seating is a fun way to entertain more guests with your cooking. Purchase or refinish a few barstools and align them with the countertops. Guests will enjoy drinking and socializing while you prepare the meal.
Pizza oven
Outdoor pizza ovens are all the rage and will bring your homemade pizza to the next level. Not only do they produce perfect, crispy crust, but they also look appealing to guests and potential buyers. Stainless-steel exteriors are the most common choice for pizza ovens and add a sleek look to your outdoor kitchen. If you want something more rustic and artsy, consider a high-end azure tiled pizza oven. They're both functional and beautiful and will perfect your pizza game.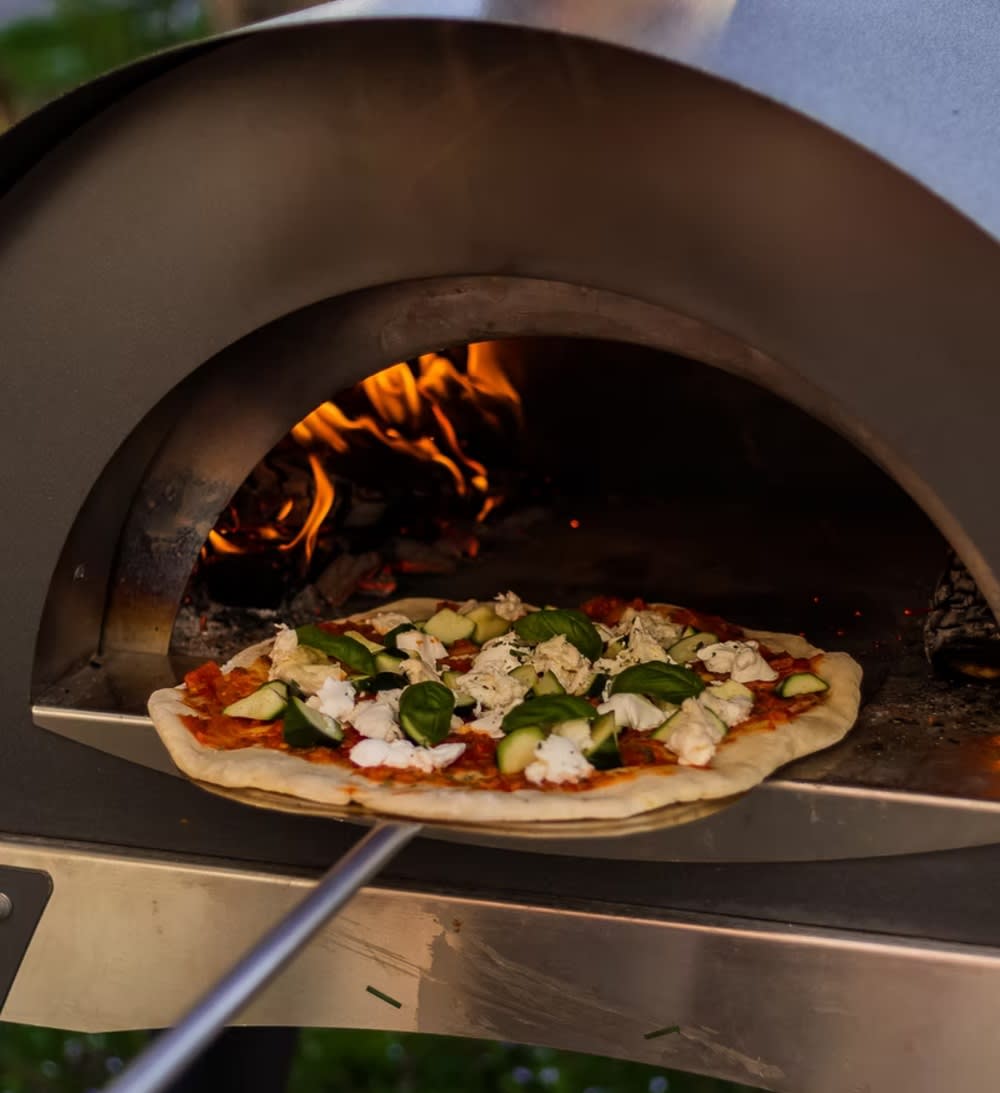 Refrigeration
Wine and beer fridges keep drinks at the optimal temperature, prevent a lot of back and forth as the evening commences, and add a bit of luxury to your outdoor kitchen. Some refrigerators also double as kegs, which is perfect for beer lovers. Simply fill the keg with your favorite brew and serve your guests from the tap.
Patio heaters
If you want to use your Wilmington kitchen year-round, it's wise to invest in one or two patio heaters. These will bring restaurant quality to your outdoor kitchen, and most importantly, will keep you and your guests comfortable. Consider a smart patio heater, many of which are ergonomically designed to send heat in multiple directions. This allows for optimal coverage and less wasted heat. You also won't have to play with fuses and flames, thanks to one-touch ignition models. Wind-resistant mesh screens mean these modern heaters won't lose heat in extreme wind conditions.
Food prep stations
Whether you're cooking yourself or you've hired a chef, it's nice to have a place to prepare ingredients that isn't inside the house. A covered food prep station—with countertops, a sink, a dishwasher, and a trash compactor—is a one-stop shop that will allow you to chat with your guests while you cook, especially if you've provided seating nearby. If your prep station is separate from your dining space, a pergola or other creative overhang adds a nice design element to this functional space.
A large table & outdoor furniture
Most Wilmington backyards could benefit from an outdoor table that really makes a statement. Sturdy iron or wooden tables will set up your space for entertaining, as they're both stylish and practical. Stage your outdoor table with seasonal designs to create a welcoming feel. You'll also want your backyard to have a space for relaxing before or after a meal. Outdoor sectionals are comfortable, luxurious, and prime for sharing appetizers and desserts. Keep your furniture in a convivial arrangement, to encourage conversation and fun.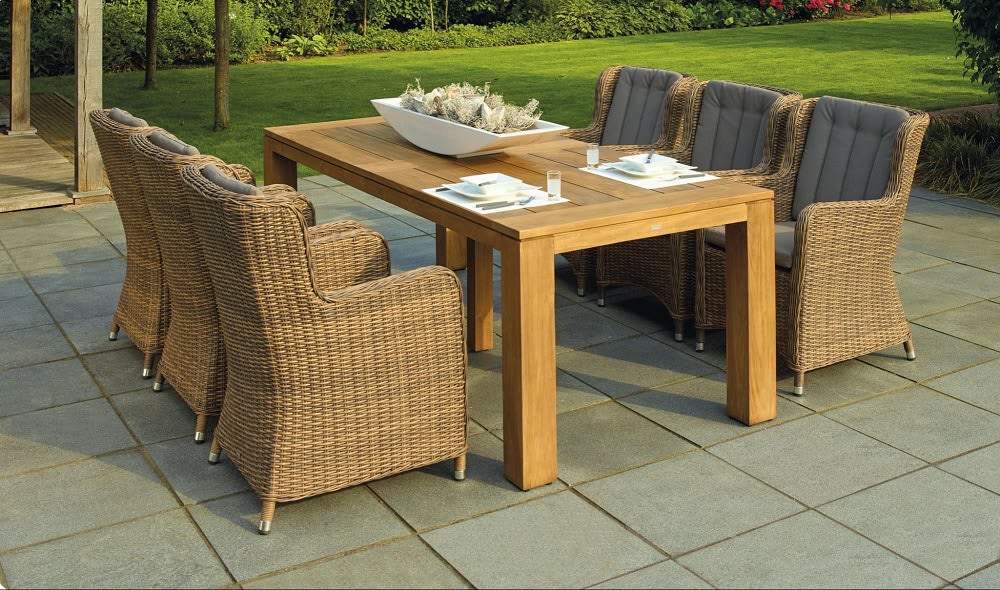 Grill
When people think of outdoor dining, they tend to think of grilling. If your Wilmington home's grill could use an upgrade, then now's the time. The type of grill you purchase will depend on your kitchen's layout. Choose between freestanding grills and ones that are incorporated into a countertop. Consider a model with dual grilling functionality, built to withstand huge portions and to seamlessly grill different meats and produce at the same time. Some grills also feature a door cooling system to avoid accidental burns. Grills can also act as storage units if you choose a model with cabinets and side panels. These small touches make a big difference for keeping your outdoor neat and presentable.
Vent hood
Similar to pizza ovens, vent hoods are a beloved feature for outdoor cooking, thanks to their functional and decorative contributions to the space. Vent hoods help circulate air and make sure your grill doesn't get so smoky that it overwhelms guests. From stainless steel to something more customized, find a vent hood to increase your kitchen's safety and style.
Firepit
Gathering around a firepit is a great way to make memories. Picture yourself, your family, and friends watching the early sunset, warming your hands by the fire on a Wilmington winter evening—or making s'mores during warm summer nights. Today's firepits are as stylish as they are functional, and can add a lot of appeal to your outdoor space. Choose a gas model for convenient fire access at any time, or with a sturdy stone pit for old-school ambiance. Copper and concrete pits are popular and durable, and will compliment your outdoor aesthetic nicely. Fire sets are available with matching seating—and are a great place to entertain guests.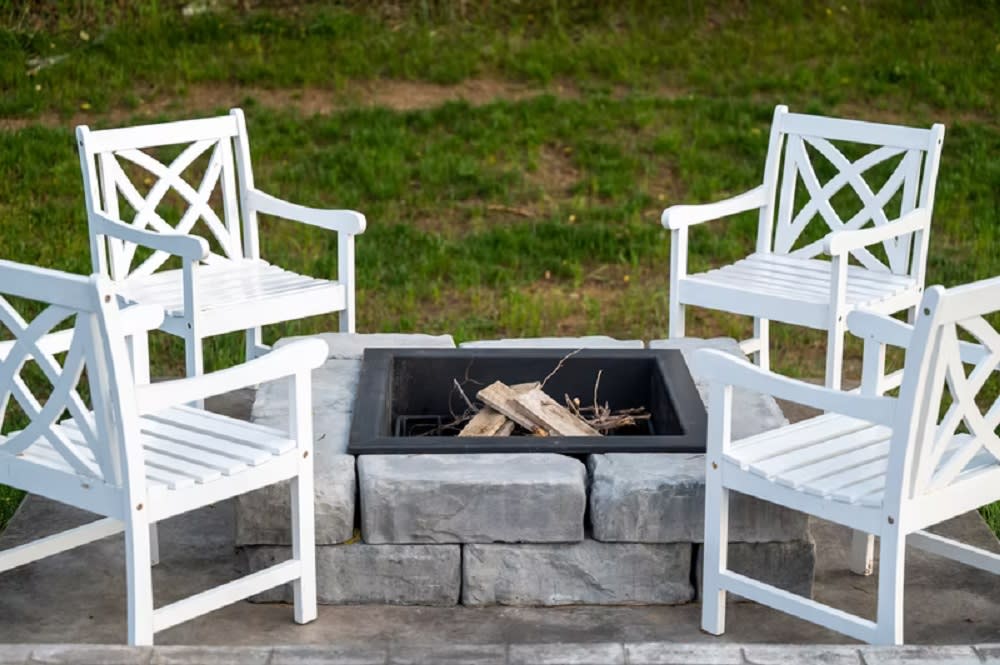 Shopping homes for sale in Wilmington?
If you're interested in buying or selling Wilmington real estate, contact trusted local realtor Jessica Edwards. Jessica and her team at Carolina's Finest are ready to show you the best luxury real estate the Wilmington area has to offer—and whether you're buying or selling—Jessica's team is ready to serve you with insightful market analysis and superb customer service.