Apart from its opulent history and folklore, Wilmington vaunts itself as a premier dining destination in the state of North Carolina. Home to a vibrant downtown teeming with classy, upscale eateries and snug towns boasting quaint dining settings, this city is the perfect haven for your cuisine sampling adventure around the coastal south.

Voted as the #1 Fresh AI Fresco Dining Neighborhood by USA TODAY 10 Best readers, Wilmington is no doubt a top-notch spot for traveling foodies and residents. The stellar atmosphere of this city swells with a diversity of culinary notes from Italian to Mexican and French to classic Americana. Whether you're craving fresh seafood along the Cape Fear River or delectable farm-to-table servings in a cozy pub, there's more than enough to excite your taste buds.

Dive into the unique spin of this wonderful city and savor a delicious meal in one or all of these eleven eateries we've cherry-picked for you. The following places are a must-stop no matter where you live, and we promise you'll want to come back for more!


Drift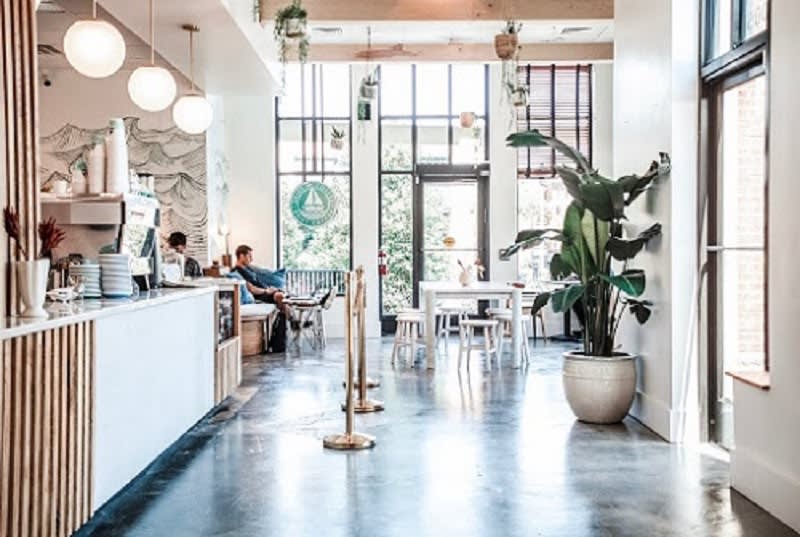 Credit: Drift Coffee & Kitchen
As a classy local business boasting three beach-side cafes accented by tree-lined sidewalks, bright lighting, and sleek modern architecture, Drift prioritizes good health, premium customer service, and a top-notch dining experience. You can count on your meals here to be minimally processed, nutritious, and savory each time. What more? Every order is made in-house and prepared fresh to your taste!

Come grab a golden latte alongside a delicious breakfast sandwich before work or settle in for a crispy potato Brekkie and iced mocha for lunch. Offering everything from a delectable selection of Nutella, butter, and jam toast to Greek yogurts and healthy acai bowls, your dining experience at Drift is sure to give you a taste of paradise.

You can visit Drift at 110 Dungannon Blvd. The cafe opens from 7 am - 5 pm on Mondays through Saturdays and 8 am - 4 pm on Sundays.
Benny's Big Time Pizzeria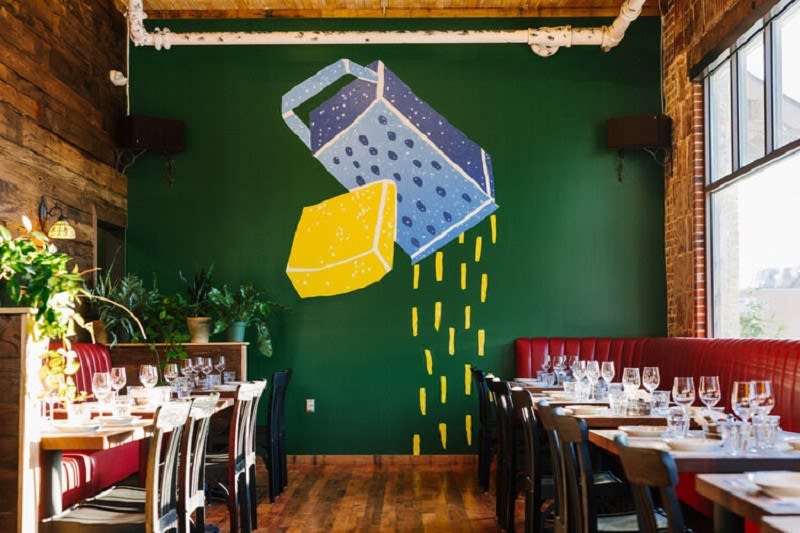 Credit: Benny' Big Time Pizzeria
With an airy, rustic, and chic vibe, locales and tourists can't stop raving about this awesome Italian restaurant dishing out classic pasta, wood-fired pizza, and house gelato. Offering a wholesome dining experience in a spacious setting perfect for a family feast or dinner with friends, you'll make Benny's a routine stop once you've had a go at the exquisite menu!

Settle in for a yummy Margarita pizza and savor its chewy crust and melty mozzarella or Benny's famous fried chicken parm and charred Brussels. You can have a go at the chopped salad with red weapon ranch complete with fresh olives and pecorino. Treat your family to a lunch bucatini alla nerano while the kids enjoy a gelato sandwich afterward.

Be sure to visit Benny's on 206 Greenfield street anytime between 5 - 9 pm from Tuesday to Thursdays and on Sundays.
Tower 7
Have you wondered what it'd be like to have dinner in a lifeguard tower along a coastal highway? Look no further than this sleek Tex-Mex surf spot. Established in 2001, Tower 7 Baja Mexican Grill is a family-owned business offering everything from delicious dishes to flavored margaritas served in a fancy spot near the beach.

You can't go wrong with the eatery's assorted menu of tacos, quesadillas, burritos, and antojitos. From grilled Santa Fe Chicken dipped in sauce to veggie tortillas lightly fried with black bean puree and sizzling skillet in a mix of fresh varieties, your Mexican craving heart will feel fulfilled even after a short visit.

Pull up outside Tower 7 on North Lumina Avenue, Wrightsville Beach, to indulge your appetite with a special serving.
Indochine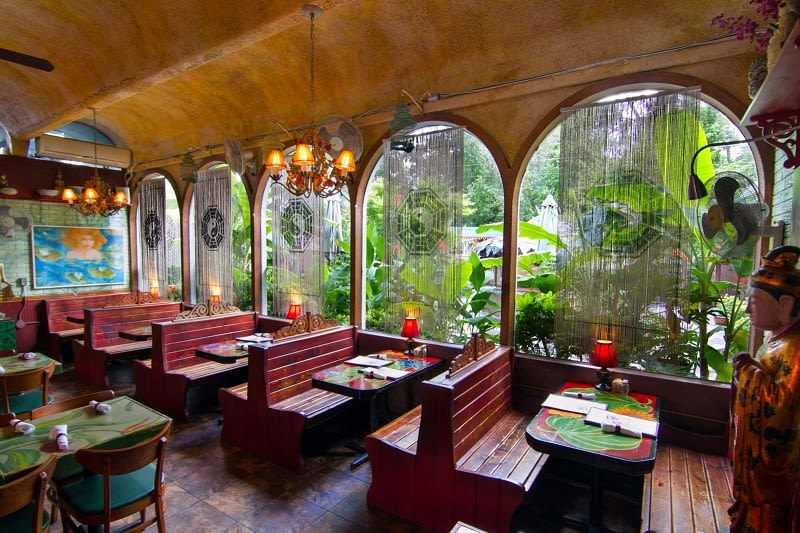 Credit: Indochine
Some call it Wilmington's most acclaimed Thai and Vietnamese restaurant, and they would be right! Indochine takes you far east with its intricate blend of Asian cuisine and cultural decor that make for the warmest, most pleasing dining experience. Born out of the homesick feeling of yearning for Thai and Vietnamese homemade dishes, be rest assured this wholesome eatery will take you to cloud nine and beyond.

Kick back on the exquisite patio and order from a gourmet menu of lunch specials comprising Teriyaki chicken noodles, Vietnamese beef stew, or braised catfish and steamed vegetable salad. Treat your kids to Indochine's popular coconut ice cream or delight in a bowl of seasoned duck curry, and wash it down with a Thai iced tea or good old sake.

Indochine is located on 7 Wayne Dr, Market Street at Forest Hills and is open for lunch every Tuesday to Saturday, while you can nestle in for dinner every day.
Quanto Basta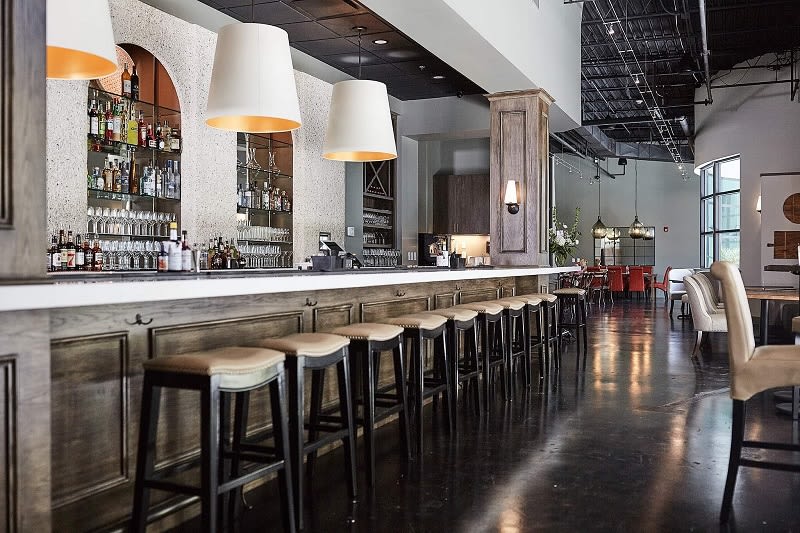 Credit: Quanto Basta
A family-owned establishment dripping with luxury and traditional notes, Quanto Basta is an award-winning favorite serving authentic Italian cuisine in a sleek dining setting like no other. Tucked in the heart of Wilmington's historic district, this eatery bears the unique tinges of a neighborhood restaurant in Italy while delivering nightly specials sourced from the fresh bounties of North Carolina's coast.
Complete with an exotic wine bar and lush courtyard seating that flaunts a magnificent fountain, QB offers guests everything from rotisserie fire-roasted meats to hand-crafted Pizzas and a gamut of classic Italian specialties. Savor a plate of chicken parmesan and charcuterie on a night out with the family, or dive into a special seafood bianco covered in sauce and help yourself to a caesar salad afterward.

Along with wine, you don't want to miss out on QB's hand-crafted cocktails from Tuscan Vieux to Espresso-Tini and other popular choices. There's an option for dessert, too!

Quanto Basta is located at 107 N Second Street and opens from 4 – 9 pm on Mondays through Thursdays and 4 – 10 pm on Fridays and Saturdays.
Coquina Fishbar
What's a Wilmington eatery list without a seafood restaurant? Coquina Fishbar has come to the rescue as an upscale dining spot featuring a deluxe patio seating just minutes away from the beach and you.

Order yummy appetizers from loaded baked oysters to Cuban sliders and okra fries, or grab a healthy veggie burger for lunch while your friends go for the steamed crab legs and Spanish bean soup or coquina salad and blackened seafood pasta. Relax at the bar while sipping tequila or Coquina's phenomenal brunch cocktails. This restaurant's got what you're looking for in coastal delights.

Visit Coquina Fishbar today at Town Center Dr from Tuesdays till the late hours of Sunday night.
Dockside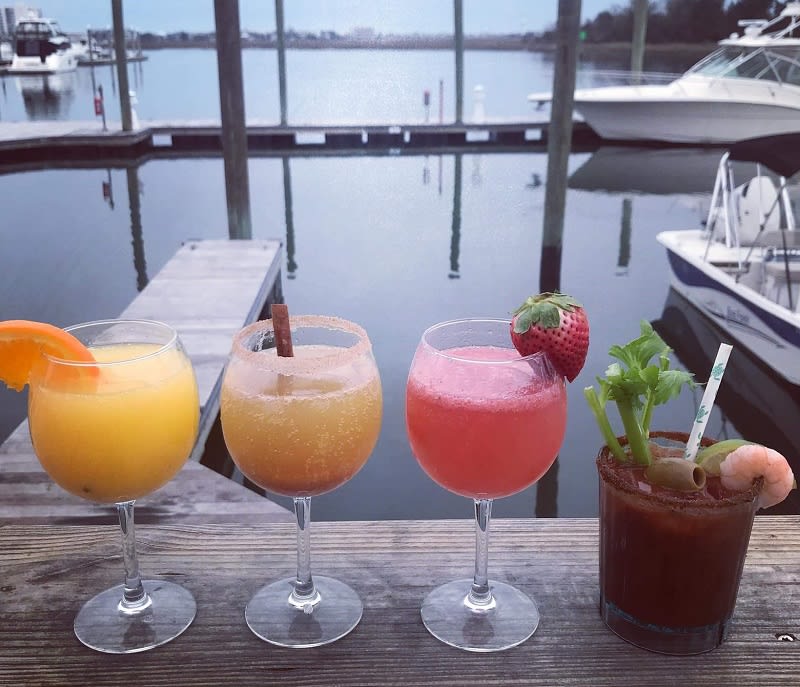 Credit: Dockside
Dockside is another coastal treasure perched on the shores of Wrightsville Beach, spotting an eclectic Island setting that drips with a rustic charm. Dockside has been serving North Carolina for over 30 years with a unique seafood menu and full bar. It's no wonder it's been a regular for locals and a must-stop for tourists.

Watch the evening sun dip into the stunning waterway as you sip a bloody Mary on the upper deck, or order a crab dip and hush puppies to enjoy with your partner. Looking for a memorable way to celebrate your toddler's birthday? Grab a delicious in-house baked cake and take pictures against a breathtaking waterfront backdrop, or buy some fried shrimp and a seafood platter to take on your little boat cruise. The parking is top-notch, and Dockside's staff is more than ready to offer a helping hand, so you'll be cherishing the moment forever.

Dockside is located at 1308 Airlie Road, and it is open to guests all week long.
Satellite
Satellite is your favorite neighborhood bar for every taste and budget. This rustic-modern tavern gleams with wood-accented décor giving it a warm, cozy feel, and it's a great place to try some new craft beers and indulge on tasty tacos, or revel in the pleasant thrum of live music as you sit for a romantic date night. Bring your pet along for a casual evening and kick back in the comfy lounge as you sip on a glass of pale ale, or take small swigs of a fruity brew accompanied by block taco nachos.

Be sure to stop by at Satellite on 120 Greenfield Street and tap an amazing weekend with fun music and drinks.
Brasserie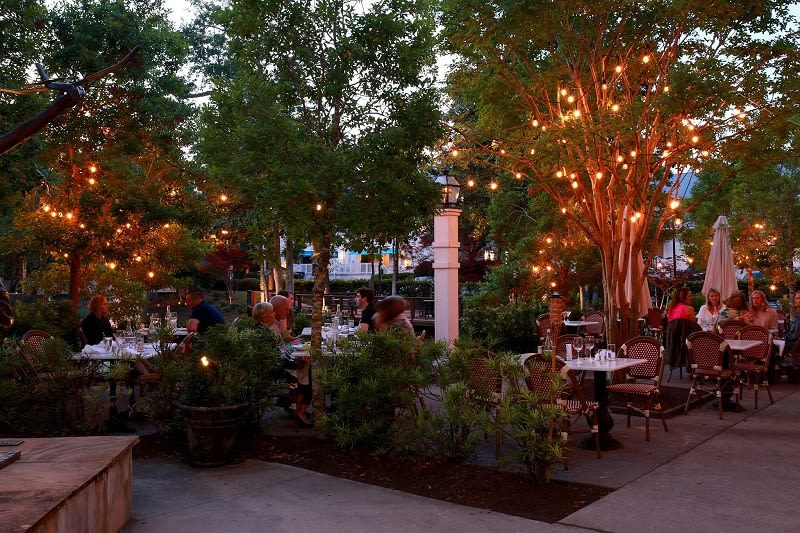 Credit: Brasserie du Soleil
Are you out for an exquisite French eatery serving classic Parisian fare complemented by an extensive wine selection? Brasserie du Soleil's got you. This deluxe dining scene offers both indoor and exclusive patio seating draped in beauty and charm.

Enjoy a fun night with colleagues as you chat over flavored Panna cottas and escargot, or go for a plate of Sauteed flounder, chicken salad and finish off with any of the Brasserie's wonderful desserts from crème brulee and chocolate mousse to berry sorbet and hot fudge. Remember, you can't pull up to Brasserie's without a go at the rich wine. From sparkling delights to cabernet and champagne, this dining experience is sure to stand out in your memory.

Located at 1908 Eastwood Road, don't miss out on the grandeur of Brasserie du Soleil!
Block Taco
Spotted right behind Satellite, this is your go-to hole in the wall for a gourmet street taco. Walk up to the window and order tasty delights from loaded nachos to brussel sprout tacos, guacamole, and chips to shrimp tostadas you won't be able to say no to. Every item on the menu packs a punch, and you can finish up with a chilled beer or iced tea.

Block Taco sits on 120 Greenfield Street, and it is open every day.
Boombalatti's
Named Best Ice Cream in Wilmington by StarNews Readers and Encore Readers, you can already guess this is a must-stop dessert shop. Boombalatti's is a family-owned establishment boasting two shops in Wilmington alone and offering everything from homemade ice cream to vegan ice cream and cold brew coffee.

Sit outside and enjoy a waffle cone, or treat your kid to a bowl of banana split topped with sprinkles. And we aren't joking about the vegan options. You would never even know those were dairy-free! When it comes to Ice cream pies, Boombalatti's never messing around, crafting all of their ice cream flavors into delicious pies made right in the shop. You'll be bursting to relive this sundae memory over and over!

Visit Boombalatti's on 1127 Military Cutoff Road for a unique serving in a modern, colorful setting.
Interested in exploring homes for sale in Wilmington? Contact The Carolina's Finest team today. As a leading Wilmington real estate agent, Jessica Edwards & Associates will help you find the luxury property that's perfect for you.