If you're looking to enjoy a night out on the town, now is the perfect time to do so! Wilmington's bars are reemerging after a difficult year for the beverage scene. This town is jam-packed with a myriad of exciting and lively bars to try out. Whether you're looking for a hole-in-the-wall speakeasy or a refined cocktail bar, Wilmington has all of that and more.
These days, restaurants and bars are putting as much thought and effort into their cocktails as they are into the rest of the menu. The result is some of the best cocktails around, often featuring fresh ingredients, homemade mixers, and premium liquors. We're here to let you in on some of the top places to grab a cocktail in Wilmington, as well as some of our top recommendations for drinks.
1. Anne Bonny's Bar and Grill
There's nothing like enjoying your drinks with a view, and at Anne Bonny's Bar and Grill, you can experience that for yourself. This bar and grill floats on a barge along the Riverwalk in downtown Wilmington, offering guests an experience like no other. They specialize in Calabash-style seafood, shareable appetizers, and classic burgers and sandwiches. They also offer local draft beer and an excellent selection of wines.
The real star of the house, though, is the cocktails. Anne Bonny's offers a wide selection of
frozen and signature cocktails
. The Dreamsicle frozen cocktail consists of orange vodka, vanilla ice cream, and a splash of mango puree — along with a whipped cream topping. They also offer creative twists on classic drinks, such as the Watermelon Margaritas, the Mango Mule, or the Sangria Slushie. If you're in the mood for a more traditional take on drinks, try out the Pina Colada or the Frozen Margarita.
2. Whiskey Tango Foxtrot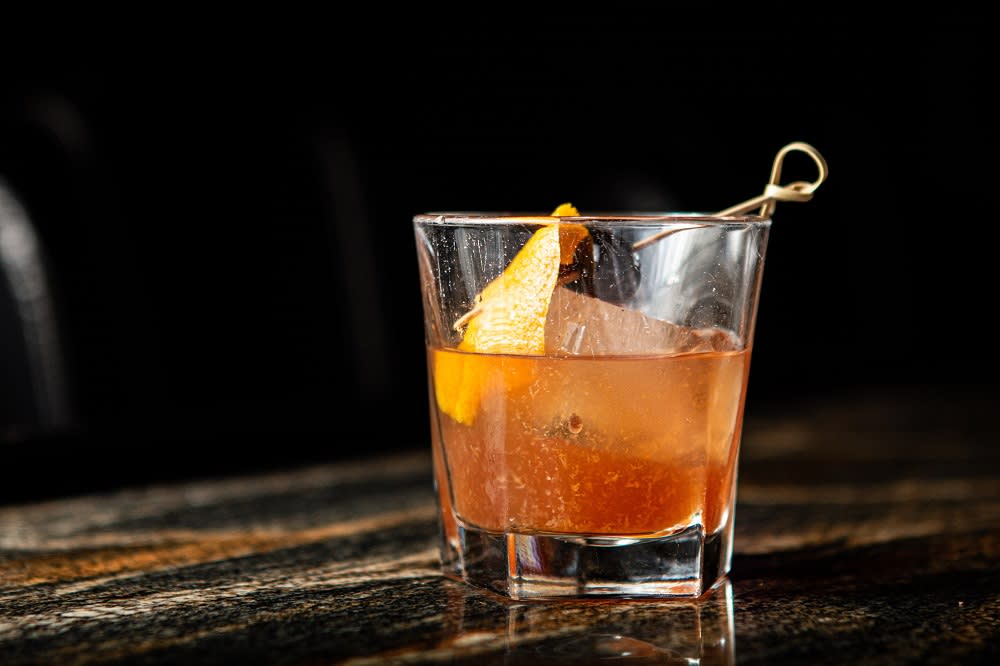 Located in Downtown Wilmington,
Whiskey Tango Foxtrot
is on a mission to serve some of the best cocktails around. This bar is known for its specialized craft cocktails, refined ambiance, and talented bartenders. Their craft cocktails are prepared with premium spirits and local ingredients, and the end result is an aesthetically pleasing and delicious tasting drink.
The menu at Whiskey Tango Foxtrot
features house cocktails, house-infused spirits, and dessert cocktails
. If you're feeling creative, consider trying the Rhubarb Reverse Manhattan. This decadent drink is composed of Bulleit rye, Massican sweet red vermouth, Berto sweet vermouth, and rhubarb bitters. If you prefer something a bit more sweet, try the Call Me A Uber. This drink is made with vodka, pineapple juice, cherry syrup, and Sprite. Some of the most popular dessert cocktails are the Cotton Candy Martini and the Peanut Butter Dreams.
In addition to their state-of-the-art cocktails, Whiskey Tango Foxtrot features live music and events. Talented bands, artists, and shows perform almost every weekend for your enjoyment. Whiskey Tango Foxtrot is often bustling with guests, so it's a good idea to make a reservation for this unforgettable experience.
3. Manna
If you enjoy the finer things in life, you'll most likely be impressed with
Manna
. This chic eatery is known for its elegant and romantic atmosphere — not to mention the impressive cocktails.
Manna's beverage program has developed significantly over many years and boasts the best wine and spirits available. When it comes to their craft cocktails, Manna utilizes the freshest juices, herbs, and bitters to create their masterpieces. One of their most notable craft cocktails is the Moro-Moro. This drink is made with vodka, blood orange and agave syrup, Cappelletti, and lemon juice. Meanwhile, the Fit for a King is another popular and unique choice. This drink consists of milk washed with apples, Copper and Kings apple brandy, Tuaca, and Domaine de Canton. If you prefer, you can also pursue through the vast selection of wine offerings. Manna also offers New American fare if you're feeling hungry and want a bite to eat.
4. The Blind Elephant
Once you walk through the doors of
The Blind Elephant
, you'll immediately be won over by the charm and character that overflow here. This speakeasy is a 1920s prohibition bar operating in an abandoned alley in the heart of downtown Wilmington. They offer a large selection of bourbons and craft cocktail creations that rotate every two months. To make it even better, there's regular live music and no cover charge. The Blind Elephant also hosts monthly whiskey tastings, an annual Great Gatsby Bash, and an Oscar Party.
When it comes to drinks, we suggest trying the B&E, which is made with Jim Beam Rye, maple syrup, mint, apple, and Stella cider. The Model-T, which is made with Tito's, mango, lemon juice, and topped with Stella Cidre, is another popular option. Finally, if you're craving something fruity, order the Tabernacle, which is made with Plymouth Gin, basil, mint, strawberries, lemon juice, burlesque bitters, and topped with prosecco.
5. Cloud 9 Rooftop Bar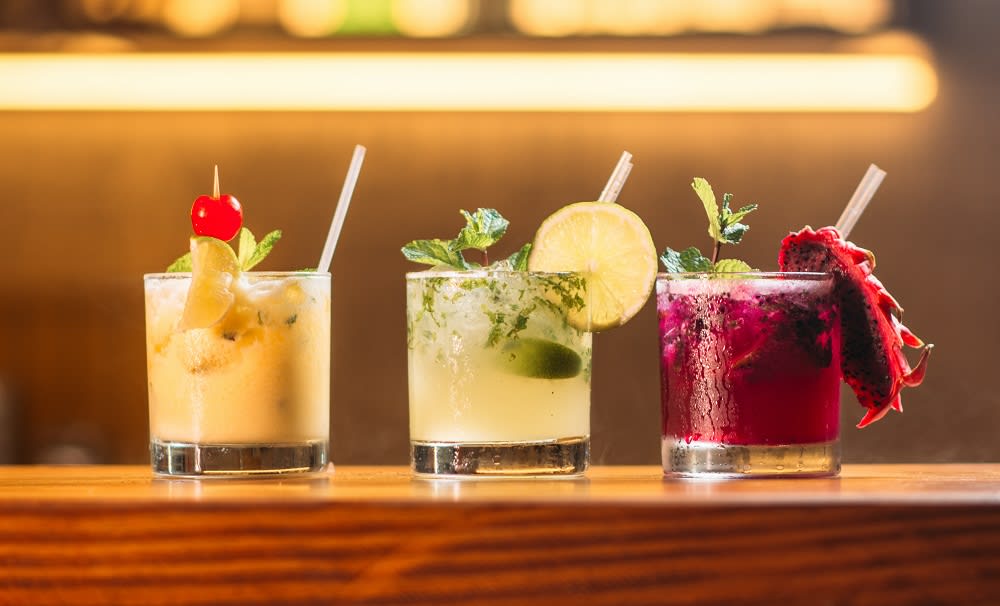 Summer is the perfect time to take advantage of the weather and try out a rooftop bar, and we've got just the spot for you. Located in downtown Wilmington,
Cloud 9 Rooftop Bar
offers a relaxed atmosphere to grab a cocktail, relax and unwind. Plus, guests get to enjoy views of Wilmington's historic harbor, ship channel, and charming downtown. This chic bar offers a wide selection of craft cocktails, beer, and wine.
Whether you enjoy your drinks sweet or spicy, Cloud 9 has that and more. The Wonderwall cocktail consists of tequila, Aperol, grapefruit, lime, and sparkling water. The Toast of the Town cocktail is made with port-soaked strawberries, Campari, sweet vermouth, sparkling water, and star anise. Meanwhile, the Kinetic cocktail is made with bourbon, vanilla, and a spiced elderberry tincture. If you're craving something to eat, consider ordering a house-made pizza and enjoying some pie in the sky. From barbecue pizzas to Greek-inspired pizzas to vegetarian options, there's a wide array of pizzas to choose from.
6. The Husk
A neighborhood bar,
The Husk
offers a casual environment that serves as a modern-day drinking hole, a place to sit with friends or to stop and sip a delicious cocktail. The bar offers a wide variety of bites and sips, which you can enjoy while watching the ball game. The Husk offers spacious indoor seating as well as a cozy courtyard in the back.
Although The Husk's menu features a diverse array of cocktails, it's famous for its Bloody Mary. This classic drink is made with vodka, tomato juice, Worcestershire sauce, Tabasco, lemon juice, and celery salt.
7. Pravda
For an exciting night out on the town, be sure to stop by
Pravda
. This local spot was recently voted the city's "Best Nightclub'' three years in a row by Encore Magazine Readers, and it's been nominated for six years in a row. Needless to say, it's a spot that you don't want to miss.
Located in the heart of downtown Wilmington, Pravada is a spacious, upscale lounge. The bar features DJs, dancing, and light shows, as well as two bars and bottle service. Guests can choose from a large selection of house-infused cocktails. If you need recommendations, the talented and attentive bartenders are available to give you suggestions, helping ensure you get a drink that suits you.
8. Rebellion NC
Trendy and upbeat are just a couple of words that describe
Rebellion NC
! Rebellion's basic tenets were formed from a brief, yet important, piece of American history: the Whiskey Rebellion. Taking place in 1794, this rebellion centered around farmers and distillers in western Pennsylvania rising up in protest of a newly enacted whiskey tax.
This modern urban bar and restaurant is a popular spot to catch up with friends or enjoy a date. It is known for its inventive American food and extensive selection of drinks. Rebellion offers over 300 types of bourbon and whiskey, as well as a generous list of cocktails, craft beer, and wine. Their
handcrafted cocktails
demonstrate a level of expertise and creativity that is difficult to achieve.
The Mississippi Blue cocktail, for instance, is made with Cathead Honeysuckle Vodka, simple lavender syrup, lime juice, ginger beer and served in a chilled coupe glass. The Crush cocktail is composed of Wheatley vodka, orange bitters, freshly squeezed orange juice, and ginger ale. The Kentucky Colonel is made with Old Grand-Dad bottled in bond bourbon, hopped grapefruit bitters, and topped with Ale-8-one on the rocks. Regardless of which drink you choose, you're in for a treat at Rebellion!
If you're looking to explore Wilmington real estate, contact
The Carolina's Finest
today. Whether you're looking for a short-term rental or a forever home, Jessica Edwards and associates can walk you through the process from start to finish and help you find a place that's right for you. With years of experience in the real estate industry and deep knowledge of homes for sale in Wilmington, Jessica and her team can help you find a house that truly feels like home.