When people plan for their ideal American beach vacations, images of Wrightsville Beach and Wilmington come to mind, whether they know it or not. Release yourself from life's stresses in a little slice of heaven on earth. It doesn't matter which part of Wilmington or Wrightsville Beach you plant your flag, stunning views and a diverse and tantalizing array of things to do await. With so little time for visitors to enjoy all these two areas have to offer, here are twelve things to do to try and get the full experience.

Given the natural glory of Wrightsville Beach scenery, visitors should take advantage of as many of the beach's outdoor attractions as possible. While there are plenty of things to do indoors on rainy winter days, the great outdoors calls. Here fishermen are sure to snag the catch of a lifetime, paddle and surf boarders find ideal waters, beach walkers collect bags of glittering shells, and swimmers dive beneath cool waters. For those days you want to stay dry though, there are several gardens and parks to entice passersby.

One such attraction is the Bald Head Woods. The woods are over 150 acres of wildland that acts as both a practical and beautiful feature of Wrightsville Beach. The dense wood and hardy canopy act as protectors against harsh storms coming in off the water and aid in keeping erosion in check. Bald head woods has also been "designated as the most extensive and least disturbed examples of major coastal ecologies in North Carolina." This is a prime stop for hikers of all skill levels and bird watchers.

For an outdoor activity that keeps a little closer to the hub of Wrightsville Beach, consider the Wilmington Riverwalk. The riverwalk spans a mile of downtown riverfront and offers the perfect blend of scenery and entertainment. Those who walk the path will find themselves gifted with a look at some of the beach's most distinguished buildings. You can also step just off the boardwalk and find yourself among some of the best local shops. The riverwalk creates a great date night plan or simply a journey to discovering the wonders of the area.

Lovers of gardens and stunning florals will find themselves instant fans of Airlie Gardens. What was initially the private gardens of the prestigious Pembroke family is now a public attraction sure to delight. Elegantly classic blooms such as camellia, magnolia, wisteria, and azalea dazzle guests. The azalea's come with the highest praise as the over 100,000 flowers blossom in a breathtaking variety of colors. Beyond the beautiful flowers and foliage though, Airlie Gardens is also home to some fascinating sculpture gardens. Whether you come for the art or the foliage, Airlie Gardens will transport you into a world of brilliant hues and dynamic views.

When the weather turns and outdoor activities have less of a draw Wilmington Beach has many indoor attractions to satisfy curious minds. One such institution is the Bellamy Mansion. An antebellum property, the mansion offers a well-preserved look into 19th-century luxury. With a rich wartime history as a Union headquarters beginning shortly after its construction, the Bellamy family didn't begin an earnest occupation until the last 40 years of the 1800s. The family would remain residents until the 1970s when restoration and preservation began. Those who visit this beautiful location will find themselves immediately immersed in a fascinating experience.

Surfers love Wrightsville Beach, and to stock up on all supplies, head over to South End Surf Shop. This local establishment on South Lumina Avenue is the go-to destination for all things water sports — whether you're in need of a wet suit for some winter surfing or wax for your stand-up paddleboard.

Families will love exploring the Children's Museum of Wilmington. This lively, learning-focused museum invites children to get hands-on and discover science from a first-hand perspective. Whether that means joining the pirate crew at the "Ahoy, Wilmington!" exhibit and searching for treasure, practicing their art skills, or cleaning a dinosaur's teeth, you'll find fun around every corner.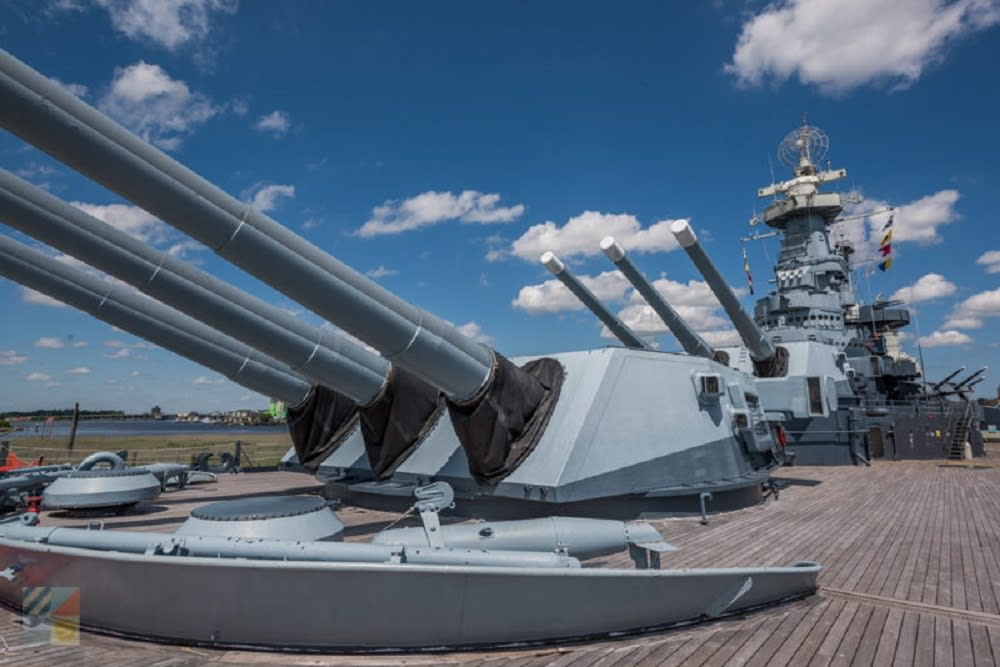 Credit: Battleship USS North Carolina

Another nautical attraction that's sure to appeal to history buffs is the Battleship North Carolina. This World War II relic finds herself high on the list of must-see stops for many a visitor to the area. The Battleship North Carolina was a key instrument during the war and was deeply involved in every major Pacific offensive. Built slightly later than many of her counterparts, the battleship was state-of-the-art for the time and a sight to behold. This modern flair and majestic visage rightfully earned her the nickname "Showboat." Many years after the war, when Battleship North Carolina fell out of use and was slotted for scrap, North Carolina came together to save her and gave her a permanent home just off its shores. In 1962 Battleship North Carolina was made a state memorial to honor the residents who lost their lives in the war.

To feel the salt air on your face, head to Johnnie Mercers Pier. This prime location for saltwater fishing is beloved by locals, but if you're not a seasoned angler, you'll still enjoy a stroll down the pier. With a one-of-a-kind concrete construction, this unique pier was originally constructed in the 1930s with a completely wooden structure. Then, in response to local hurricanes, the pier was reimagined with a concrete facade. Now, Johnnie Mercers Pier is open essentially everyday, and it's the perfect place to soak up Wrightsville Beach's gorgeous coastline views.

Wrightsville Beach is home to some of the best fine dining establishments on the North Carolina coast. The Oceanic Restaurant sits right on the Atlantic coast and sources all of its fish from local fishermen. While the restaurant didn't open until the 1990s, they have been a foundation of the community for almost a century. Exclusively situated right off the beach and on the only wooden pier in Wrightsville Beach, diners can partake in breathtaking views of the cerulean waves while they enjoy outstanding service. If the opportunity arrives, it is highly recommended that visitors experience the Full Moon Affair. Every full moon, Oceanic Restaurant's chef prepares dinner and bar bites for guests to enjoy as they celebrate the full moon as a community. It's a great opportunity to meet up with friends or family and enjoy some quality time under the stars and silver moon.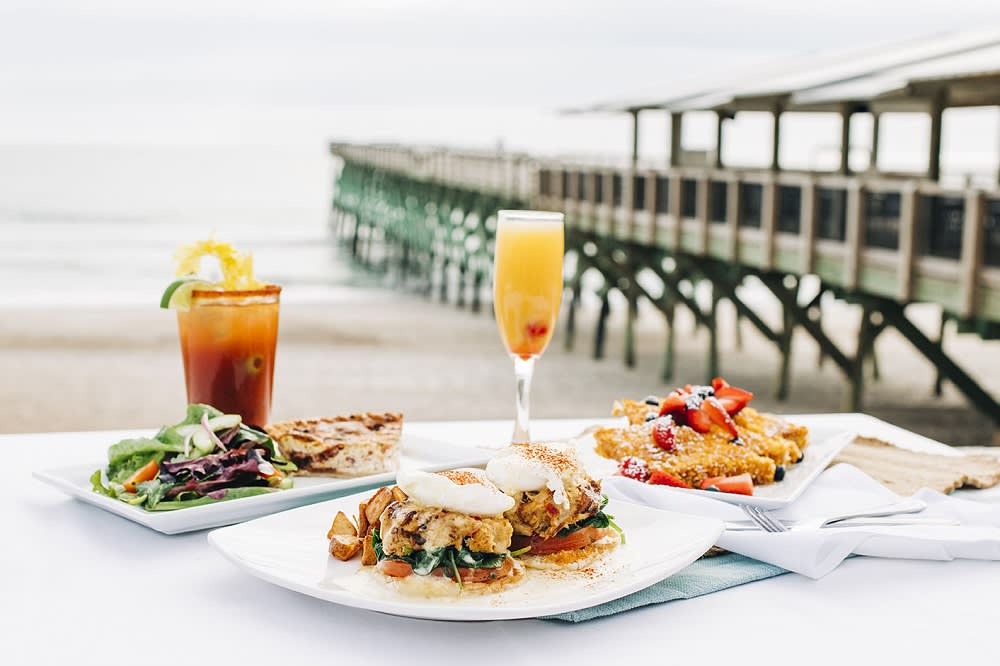 Credit: Oceanic Restaurant

East Oceanfront Dining presents a similar oceanfront vibe to Oceanic Restaurant but with a garden flair. Executive Chef Jessica Cabo was a semi-finalist on the show Hell's Kitchen and is the driving force behind their menu. Cultural influences include touches of Asia, the Mediterranean, California, and Mexico. Ideal for vegetarian-minded individuals and seafood aficionados, dishes are created with local seafood and produce selected from their own surrounding garden, and other ingredients collected from nearby vendors. Refined dining seating can be found indoors and outdoors under a beautiful, canopied garden deck.

There's a good reason so many have decided to call Wilmington, Wrightsville Beach, and the surrounding area home. From the laid-back beach scene, elegant dining opportunities, and the promise of year-round entertainment, the full experience can only truly be felt by locals. A lifetime of possibilities fills even the savviest planner's itinerary. If you're looking for a coastal community that can cater to whatever mood takes your fancy, from fast-paced fun to tranquil peace, take the plunge with The Carolina's Finest. With their expertise, you'll be matched with the perfect community for your tastes in the Wilmington and Wrightsville Beach area. Reach out today and start experiencing everything this amazing town has to offer!